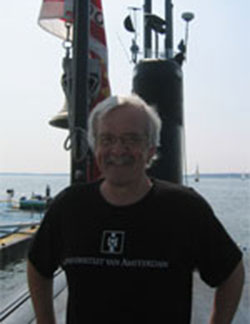 Department
English
Expertise
Medieval English and European Literature
Interdisciplinary approaches to medieval drama/art/music
Dr. Stephen Wright is Professor Emeritus of English Language and Literature.  Dr. Wright's special fields include Chaucer and Middle English literature, medieval women's writing, and comparative studies of medieval European drama, art, and music. He has published three books, edited five books, and completed numerous comparative studies of medieval European theatre in several languages (English, Latin, German, French, and Swedish).  He currently serves on the editorial boards of the Early Drama, Art, and Music monograph series and the journal Comparative Drama. Dr. Wright has been awarded an M.E. Sadler Scholarship, a Rotary International Graduate Fellowship, a Danforth Fellowship, and two Fulbright grants. He is a two-time recipient of the Martin Stevens Award as well as the McMaster University Early Theatre Award for outstanding research in medieval drama. He has been honored with Catholic University's awards for excellence in both undergraduate and graduate teaching as well as its award for all-around excellence in teaching.  He has studied and taught in England, Germany, the Netherlands, Italy, Poland, and the People's Republic of China.

Dr Wright joined the faculty of the Department of English in 1982 after earning a Ph.D. in Comparative Literature from Indiana University. He undertook graduate studies in medieval Latin and German (Albert-Ludwigs-Universität, Freiburg i. Br.) and holds a B.A. summa cum laude in English and German (Texas Christian University), a B.Phil. in Medieval Studies (University of York), and an M.A. in Comparative Literature and a Certificate in Medieval Studies (Indiana University).  He retired from active teaching in 2013.
Awards
Prof. Wright has held a Danforth Fellowship at Indiana University, a Rotary Foundation Fellowship in Germany, and a Fulbright Research Fellowship in the United Kingdom.  He was a Fulbright Teaching Fellow in Poland and has taught and lectured extensively in Germany, twice in the Netherlands, in Italy, and in the People's Republic of China.  He has won awards for both graduate and undergraduate teaching, for all-around excellence in teaching, and is a two-time recipient of the Martin Stevens Award for the Year's Best Essay in Early Drama Studies.