Founded in 2009, the Catholic University English Society is dedicated to promoting literary study and appreciation on campus. Although it is an organization housed in the English Department, its membership is open to all students (both undergraduate and graduate) who love literature, culture, and the arts.
For more information about the English Society, please contact one of the current officers or Dr. Taryn Okuma (okuma@cua.edu) and join the "CUA English Society" Facebook group to receive regular updates and invitations to events.
English Society events

Fall and Spring Parties
In the fall, on behalf of the English Department, the English Society welcomes new English majors and members of the Society to a pizza social. It's an informal event designed to introduce students to each other and to English faculty. In the Spring, we celebrate the graduation of all the senior English majors and any outgoing English Society officers with pizza, cake, and literary-themed entertainment.
Book Discussion Groups
Join the English Society for monthly book discussion groups – come for one or attend the whole series. Each semester the readings are loosely connected by a theme, but interested readers are invited to drop-in as often as they can spare the time. Discussions are always attended by at least one faculty member, but are led by one of the English Society officers and are very informal – this isn't class discussion!
English Society Tea
A social hour for all current and prospective English majors and minors, English faculty, lovers of literature and creative writing, and friends of English Society. Join us for tea, coffee, conversation, literary hot takes and debates, and the occasional round of trivia!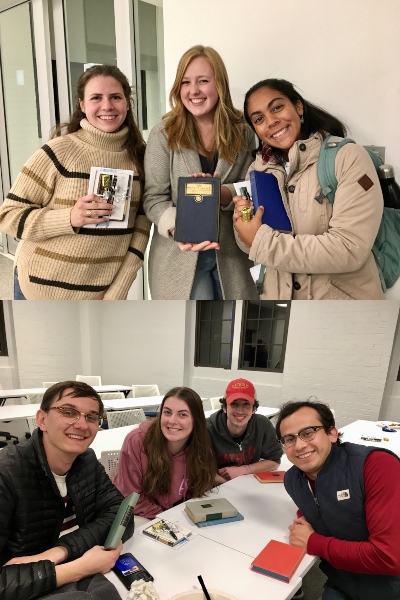 Literary Trivia Night
Every year English faculty and graduate students contribute questions to the Society's annual Literary Trivia Night. Undergraduate students compete on four-person teams (no more than two members of a single graduating class per team) for the grand literary-themed prize. Categories include "Famous First/Last Lines," "Order in the Canon," and "Authors and Characters."
Past Winners
2022, Common Sense & Sensibility
2017, The Marist Exiles
2016, Sir Gawinning
2014, The Jane Auden Fight Club
2012, The Old Arcadia (a.k.a. No Country for Young Poets)
2011, MacOkwheatgibmasuardlidhpargorwrianu (a.k.a. the Chernobyl Kinsmen)
2010, The Jane Austen Fight Club
Excursions
The English Society organizes outings to literary events in the DC area and welcomes suggestions from members for activities and performances that other members may be interested in attending. Past excursions have included: readings by Salman Rushdie, Ian McEwan, and Nick Hornby; trips to the National Book Festival; Shakespeare's Birthday Celebration at the Folger Library; performances at the Folger Theatre and the National Shakespeare Theatre.