A conversation with Rachel Moore, English alumna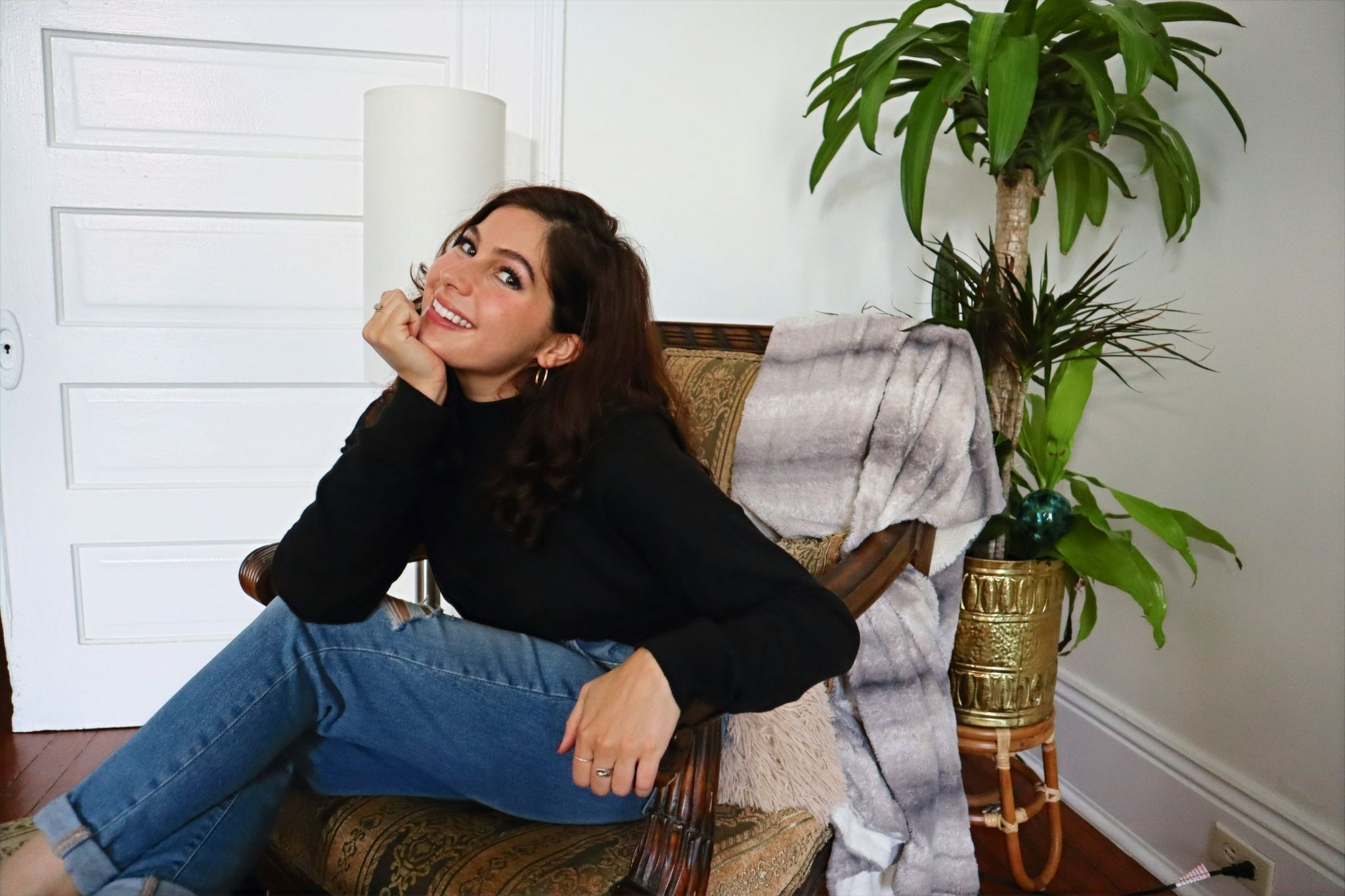 Rachel graduated from CUA in 2017 as an English major with minors in philosophy and theology and religious studies. She received the Edward H. Cain award for Outstanding Graduating Senior in English. While at CUA, Rachel worked as a resident assistant and a resident minister, but her favorite college job was serving as an undergraduate tutor in the Writing Center. Today, Rachel works as a professional artist with The St. Louis IX Art Society, and she is pursuing a master's degree in pastoral leadership from Notre Dame Seminary in New Orleans, LA.
What is your current job/title?
I work for The St. Louis IX Art Society (SL9 SL9art.com) as both a Society Artist and Media Coordinator. SL9 is a Catholic apostolate and 501(c)3 non-profit in the Archdiocese of New Orleans that exists to promote a culture of Catholic art in South Louisiana by hosting art events in local dioceses, providing a platform for local Catholic artists to display and promote their work, and beautifying  under-resourced Catholic parishes, schools, and ministries at no cost to them. I am also the designer and contributor for Joie de Vivre (jdvjournal.com), which is a journal of art, culture, and letters for South Louisiana published by SL9. Most importantly, my vocation is being an artist–it's a gift that I get to sell my art professionally and work on commissions through my small business Rach Paints Art! (rachpaintsart.com). When I'm away from my paintbrushes and Adobe InDesign, you'll find me in class at Notre Dame Seminary where I'm finishing up my master's degree in pastoral leadership.
Why did you choose to study English at Catholic U.?
I wanted to become better formed as both a reader and a storyteller. I've learned that in the same way words have definitions, people have stories. There's something about the messiness of storytelling that illustrates the human experience in a way that the jargon of psychology and philosophy can't quite articulate. Going through intentional formation as a reader sharpens your vision of reality in all of its aspects because it helps you engage with imagery and draw analogies between the literature we read and the world in which we live. We're storied people, and I truly believe better readers become better people.
What was your path from graduation to your current job like? What advice can you give senior majors and recent grads about life after graduation?
Seniors and recent grads, everyone's already giving y'all professional advice, so let's skip to personal advice. You might have a crisis of loneliness now that you've graduated because you no longer have the luxury of getting together with your fellow English majors to close-read a Robert Penn Warren poem for two hours. So, instead of spiraling into existential dread, go find a book club. If you can't find one, start one. Books are engines for discussion and engagement, and reading the same work of literature with someone allows you to speak a new language together. Make friends with fellow readers. They're out there, I promise you.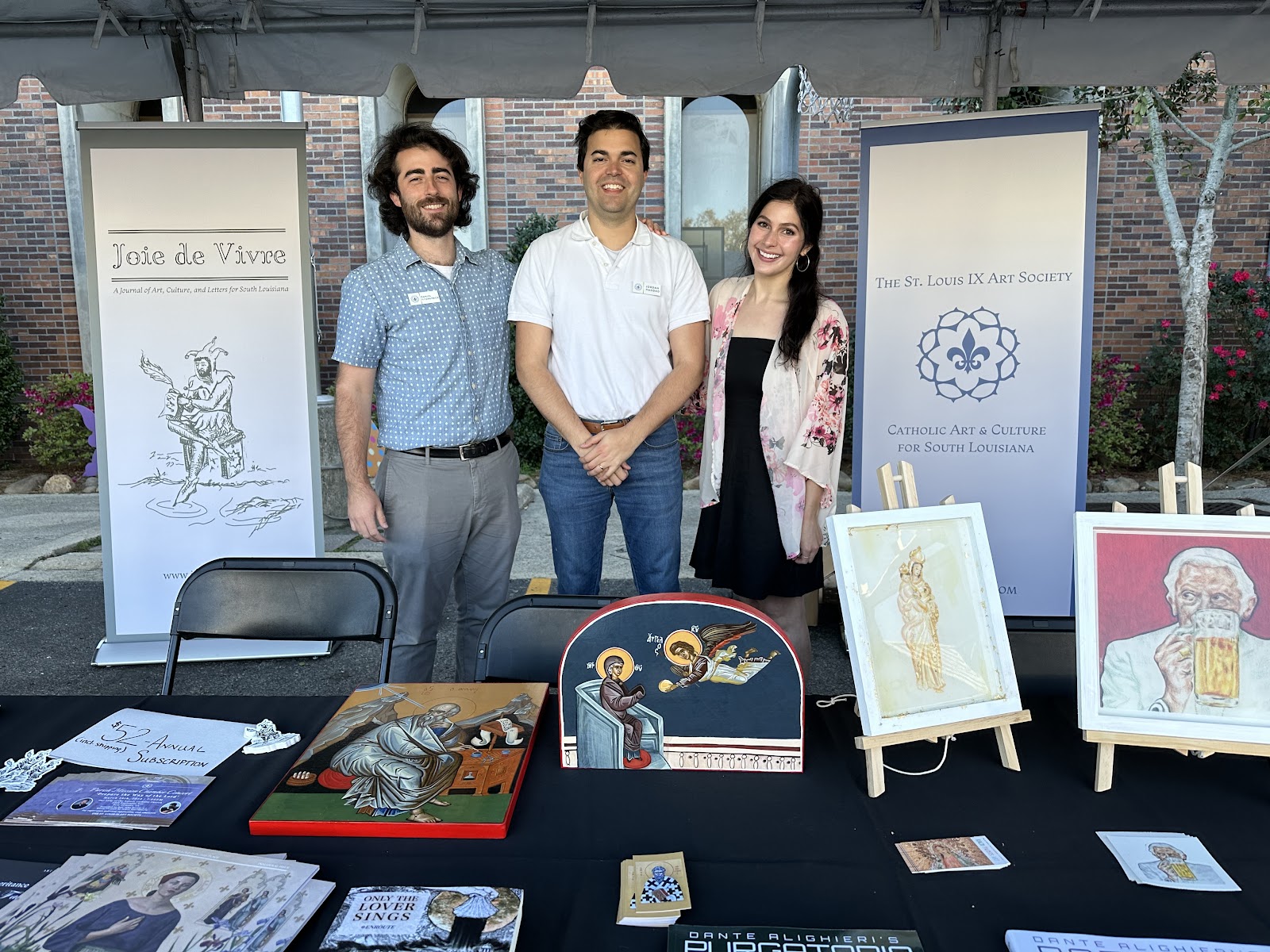 How has your English background served you professionally?
Collaborating with a group of editors to publish an art journal means that reading and writing become as essential to my daily living as breathing. As the designer for Joie de Vivre, I illustrate and format imagery in a way that most appropriately and most attractively gives flesh and blood to the words of our contributing writers. Plus, I'm not ashamed to admit that when I'm in an editorial meeting for Joie de Vivre and we spend half an hour analyzing the function of one little punctuation mark in a submission, I find myself getting nostalgic for Writing Center staff meetings!
Here's the best part: the editors of Joie de Vivre and I host monthly book discussions on works of literature that give expression to life in South Louisiana, such as A Confederacy of Dunces by John Kennedy Toole and The Moviegoer by Walker Percy. Let me tell y'all–every time a book discussion rolls around, I'm tempted to fly my CUA classmates down here so we can reunite over poetry and po'boys.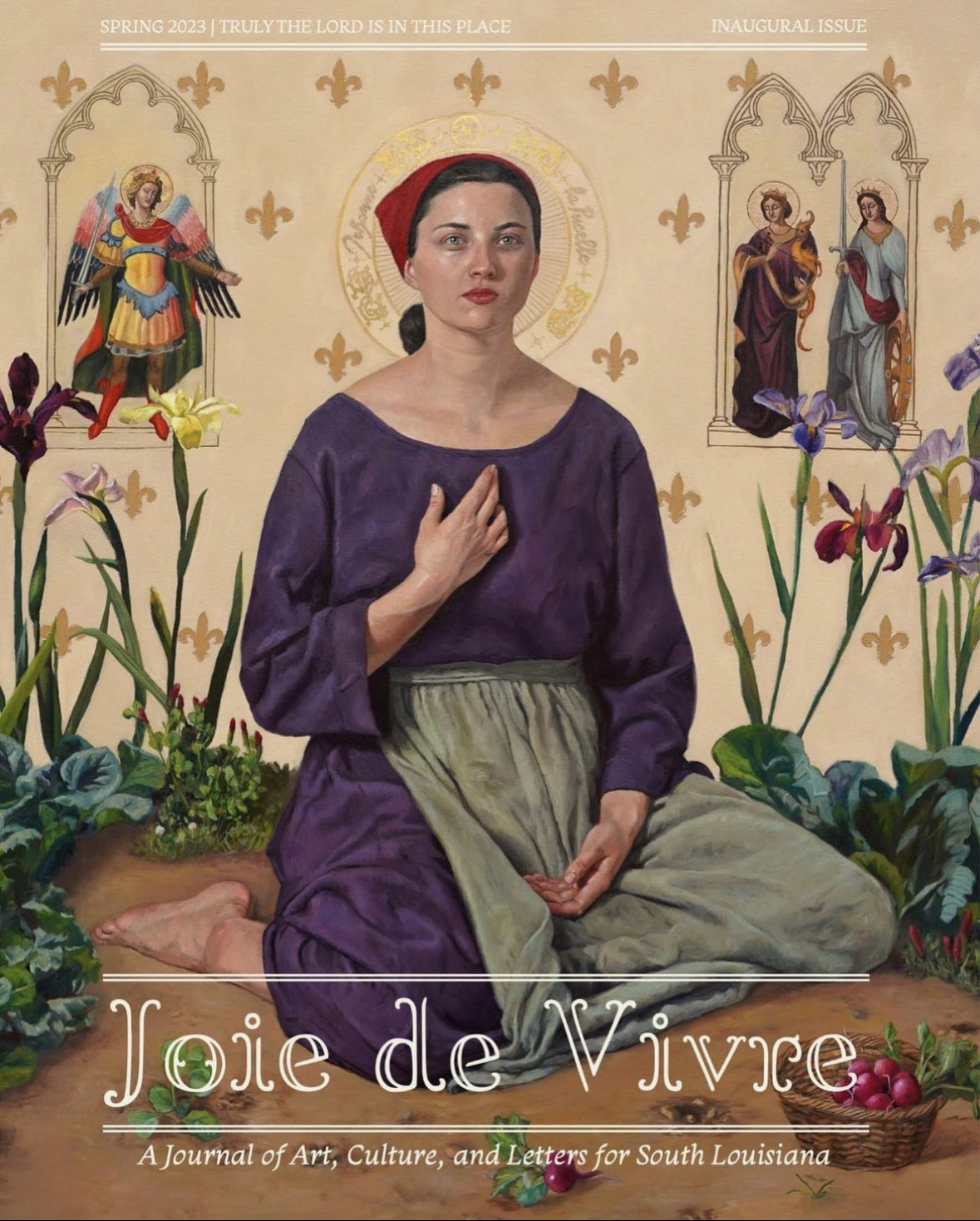 What do you like the most about your job?
As much as I miss DC (especially during cherry blossom season), I love that the work I get to do down here helps me feel at home. We measure out life in the Big Easy not with coffee spoons, but with jazz festivals, crawfish boils, alligator attacks, and tangled Mardi Gras beads. It's difficult not to have a wild imagination down here where every corner of the bayou is some sort of short story prompt. Studying Faulker, Warren, and O'Connor with Dr. Suarez helped me recognize the strange and sacred beauty of having a Southern identity, and now I get to give expression to it through my vocation as an artist. The Good Lord has been an absolute sweetheart to me by letting me work in a community of Louisiana's artists, poets, and philosophers who all come together to give shape and color to the joy of living down here. 
What does a typical day at work look like for you?
One of the perks of living as a professional artist is that I get to work from home. I spend hours painting commissions in my home studio, and while I work, I typically consume audiobooks. The only catch is that sometimes, for better or for worse, I'll look at an art piece and suddenly remember, "oh, I was listening to Dracula while painting that!"
Creativity exhausts not only your mind, but your heart and soul as well. That's why everyday, no matter what, I make time for play and leisure so that I can give my creativity the space to recharge. Even if it's just for fifteen minutes, every day I have to make time to play an instrument, work on a puzzle, and read fiction. My work is always best when I discipline myself to relax.
What did you learn as an English major at Catholic U. that has stayed with you?
Admit it. Everything recalls Milton. Thank you, Dr. Wheatley.
Do you have any advice for current English majors?
I'll give y'all the same advice Dr. Gibbons gave my class at Freshman Orientation: be good-souled. Simple as that. Take care of that moral imagination of yours, and read, read, read. You know those times you find yourself feeling lost or depressed? Drop everything and visit Shakespeare. Visit Keats. Visit Warren. Trust me. They will answer when you call at 2:30 in the morning.