English Department Awards
Congratulations to the winners of this year's English Department awards, who were recognized at this year's Spring Party on April 23rd.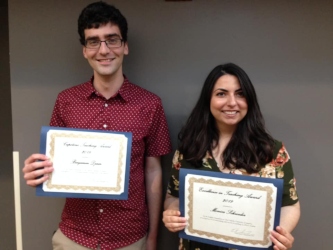 Benjamin Djain (Ph.D. '19) received the Capstone Teaching Award, which recognizes a Ph.D. student who is within one year of finishing the degree and who has demonstrated excellence in teaching throughout his or her career as a Ph.D. student at Catholic University.
Monica Schroeder (current Ph.D. student) received the Excellence in Teaching Award, which recognizes a graduate student who has completed at least 3 semesters of instruction while enrolled in the Ph.D. program and has already established an outstanding teaching record.
The nominees and winners of the Graduate Teaching Awards are selected by the English Department faculty.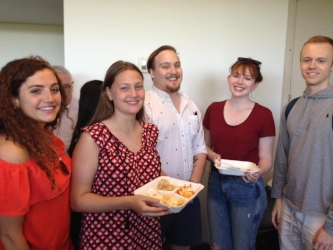 Isabel Vander Bleek (B.A. English '19) was recogized as the recipient of the 2019 H. Edward Cain Prize for excellence in literary study. The Cain Prize is awarded each year to a graduating senior English major who has demonstrated the highest excellence in all four years of study at Catholic University.


Publish in Inventio!
Inventio is the multidisciplinary undergraduate research journal of The Catholic University of America. Inventio accepts submissions of original research in theology, philosophy, the humanities, and the social sciences conducted and written by undergraduate students at The Catholic University of America. Authors should be current students or within two years of their graduation.
The papers should be written for a general, well-educated audience and may use technical language. The writing should show an attempt by the undergraduate researcher to tackle an intellectually challenging subject. The work should parallel academic rigor accepted in the professional research community.
Submissions are due to Dr. Taryn Okuma (okuma@cua.edu) by May 15th.
Notes:
- Due to the nature of our review process, we are currently unable to accept essays written for courses taken as part of study abroad programs.
- Essays written for First Year Experience courses undergo a separate review process in the Spring semester and are selected by the Director of the FYE. FYE submisisons will also be considered for the Phi Beta Kappa First Year Experience Essay Prize.
For the full submissions guidelines, please see the Inventio website.