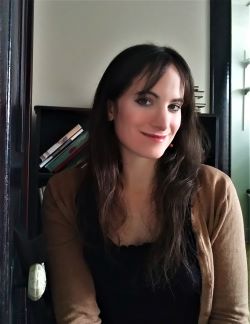 Department
English
School
School of Arts and Sciences
Expertise
18th- and 19th-century British Literature
Transatlantic Romanticism
Theory of the Novel
Phenomenology and Literature
Creative Writing
Dr. Amanda Auerbach is an Assistant Professor of English at Catholic University. She joined the faculty in fall 2020. Dr. Auerbach specializes in eighteenth- and nineteenth-century British literature, taking a particular interest in women novelists. In addition to writing literary criticism, Dr. Auerbach is also a poet; her book of poems What Need Have We For Such as We was published in fall 2019 by C&R Press. Her poems have also appeared in literary magazines including the Paris Review and Kenyon Review.

Dr. Auerbach's academic book project, Getting Lost in the Novel: The Impassioned Movements of the Self in Eighteenth- and Nineteenth-Century Britain, attends to moments when a character gets socially or geographically lost, in which an emotionally-driven experience moves her body and influences her thoughts. These moments of lostness, which unfold as mental, emotional, and physical motions, resemble in structure the larger plots of seminal subgenres in the history of the British novel: the marriage plot, the gothic novel, the Victorian Bildungsroman, and the sensation novel. Dr. Auerbach argues that these episodes of getting lost define subgenres of the novel from within, by how it feels to get immersed in them. In addition to reflecting an interest in genre theory, episodes of getting lost express an impulse, largely on the part of women novelists, to identify and describe familiar, unreflective experiences that shape the lives of female characters.

Dr. Auerbach has taught courses on the love plot, gothic fiction, and the creative writing of poetry and fiction.

Dr. Auerbach earned her PhD in English at Harvard in May 2018. She completed her MFA at the Iowa Writers' Workshop in May 2020.