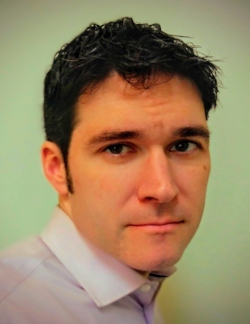 Department
English
School
School of Arts and Sciences
Expertise
Modernism
20th Century Literature
Satire
Writing Studies
Writing Centers
Profile
Dr. Kevin Rulo is a Clinical Assistant Professor of English and serves as both the Director of the Writing & Rhetoric Program and the Director of the University Writing Center. He specializes in transatlantic 20th century literature, especially the relationship between modernism and satire. His forthcoming book, 
Satiric Modernism
, examines the flourishing of satiric theory and practice in the experimental literature and art of the last hundred years. Additionally, his research and teaching expertise includes writing studies and writing centers, with recent and forthcoming work on writing instruction for nursing graduate students and on the history of the essay. 
As director of the Writing and Rhetoric Program, Dr. Rulo teaches, mentors, and oversees the English Department's doctoral teaching fellows in their instruction in Writing and Rhetoric and a variety of other writing and literature courses.
As Director of the Writing Center, Dr. Rulo strives to strengthen the writing environment of the university and to create a positive atmosphere for the development of writers of all levels. In his work in the Center, he is privileged to work with wonderful graduate and undergraduate students and staff and to guide exciting undergraduate research projects to presentations at conferences across the country. (The Writing Center can help students with papers at all stages of the writing process. For more information, please
see the website
.)
Dr. Rulo received his Ph.D. in 2012 and his M.A. in 2006, both from The Catholic University of America. He also holds a B.A. from the University of Missouri-St. Louis, which he received in 2003.
Administration
Dr. Rulo currently serves as the Director of the Writing & Rhetoric Program, as well as the Director of the University Writing Center. 
Awards
The International T.S. Eliot Society's 2015 Fathman Award