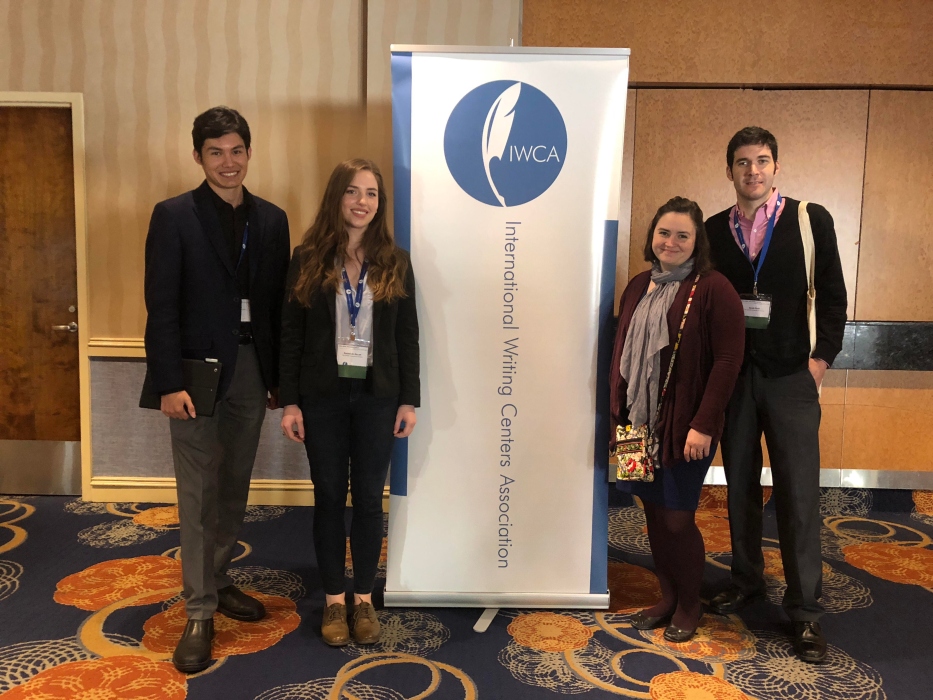 by Dr. Kevin Rulo
Graduate and undergraduate Writing Center staff presented their original research at the International Writing Center Association conference in Atlanta this October. Peter Varga (Psychology '19) presented a poster of his research on writing apprehension and self-efficacy in relation to use of the Writing Center, "Measures of Success: The Effect of Writing Center Sessions on Client Writing Apprehension and Self-Efficacy." Peter created and distributed a survey to clients over a two-week period last fall as part of his research project for ENG 328: Writing Center Theory & Practice. The results showed that a writing center consultation can lead to significant improvement in both the apprehension and efficacy domains. Student who use the Writing Center, he found, tend to experience less apprehension and feel more confident after visiting.
Rachel de Rosset (English '19) conducted a Special Interest Group (SIG) meeting, "Undergraduate Tutors and Gender: Research and Training," based on her research, which also originated in ENG 328, on current gender trends in the Writing Center. Rachel's project, which formed the basis for the discussion at the meeting, consisted a survey of past and present Writing Center staff about gender dynamics in the Center. The goal of the SIG was for participants to leave the session with ideas for developing further research on gender in Writing Centers and methods for open discussion and training for Writing Center tutors.
Bethany Besteman (Ph.D. candidate in English), who is currently serving as the Graduate Assistant Director of the Writing Center at Catholic U., presented a paper, "Tutoring Out from Community into Community," describing her research on student perceptions of belonging and community in the Catholic U. and the United States Naval Academy Writing Centers. At both Catholic U. and USNA, clients who perceived their tutors as experts were more likely to report increased confidence after an appointment, but less likely to identify as writers. The survey results highlight one of the tensions in Writing Center tutoring: tutoring practices which correlate with clients' feeling a part of the local Writing Center community may not correlate with clients' sense of belonging to the larger community of writers.
Congratulations to this group of young scholars and professionals for their important work!