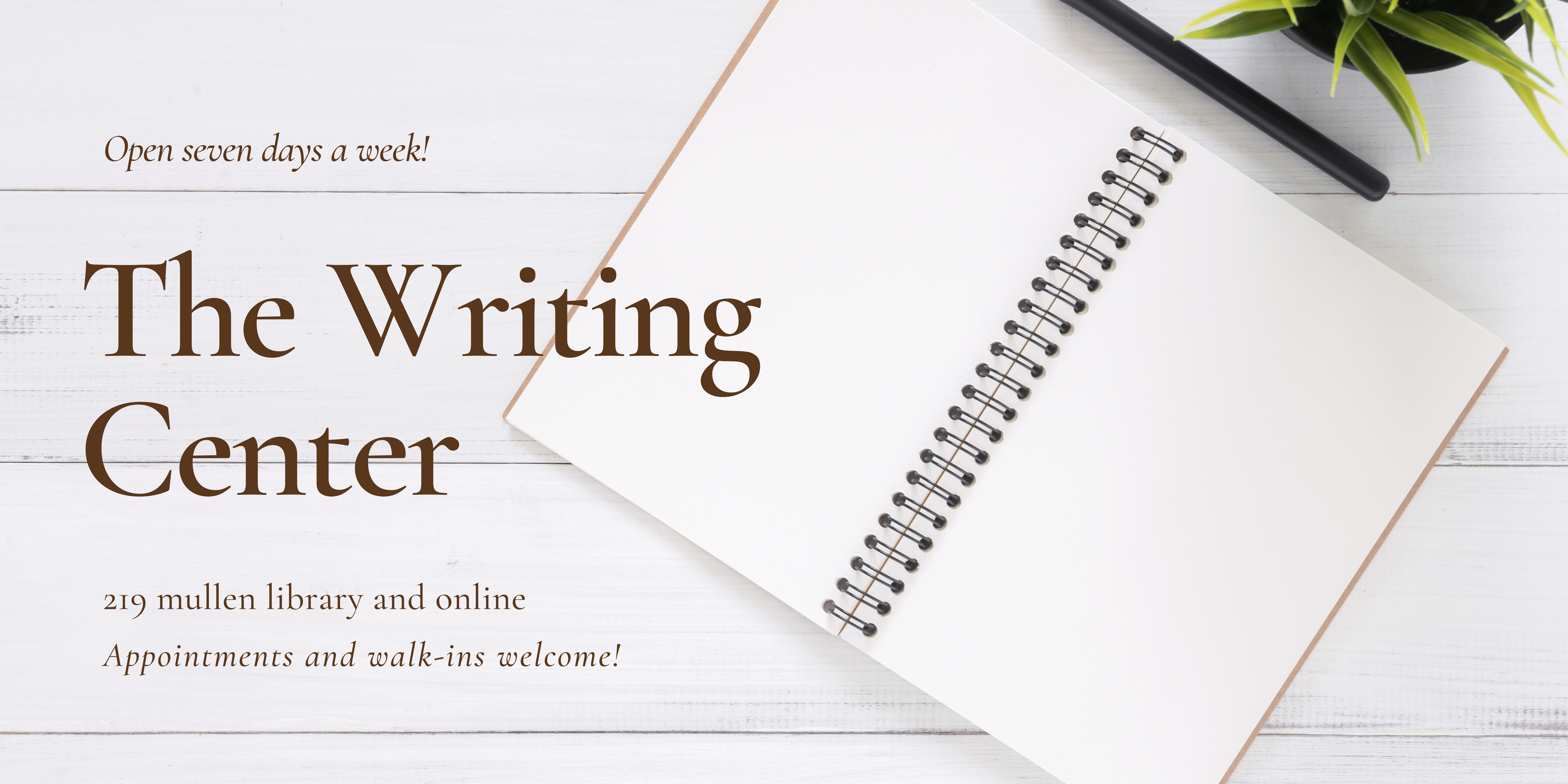 News from the Writing Center 
It's been another busy semester in The Writing Center. As we head for the homestretch, we will continue to offer both online and in-person writing consultations through the end of finals week and also during the summer sessions. So if you need some last-minute help this semester or assistance over the summer, the Writing Center continues to be here for you for all your writing needs.
This past March, Writing Center tutors Caden O'Neal (Philosophy '23) and Delia Murphy (Psychology '25) presented at the Mid-Atlantic Writing Centers Association conference at Bryn Mawr College in Pennsylvania. Caden and Delia held a roundtable discussion on "Neurodivergence in the Writing Center," focusing specifically on ADHD and OCD both from the tutor and student perspectives. Congratulations to Caden and Delia for their well-received presentation!
Our impacts beyond Catholic U. also include our continuing partnership with DC independent Catholic high school, St. Jerome Institute, where we offer tutorial services at the Institute campus each week. Two of our undergraduate tutors, Matthew Sawtelle and Mary Schwartz, have been conducting sessions with the students, providing our usual support with all aspects of writing at any stage of the writing process – but this time to freshman, sophomores, juniors, and seniors at the high school level. We are grateful for our time at the Institute and for the opportunity to work with their wonderful student writers! 
Every spring semester, we in the Writing Center are filled with mixed emotions as we have to say goodbye to some of our tutors and instructors. We are so grateful for the work of our staff, who do so much to help our writers. This year is particularly bittersweet as we have to say goodbye to a large graduating class of tutors, many of whom have had lengthy tenures in the Center and who have helped us to weather the difficulties of the pandemic and its aftermath. Thank you to Nicole Cicippio, Daniel Formella, Noelia Gonzalez, Bridget Guinee, Emma Jones, Javier Mazariegos, Caden O'Neal, Matthew Sawtelle, Mary Schwartz, Alaina Smith, and Christopher Vitale! We wish you all the best in the great work you will do in the future, and we will miss you! 
Additionally, I would like to offer a word of gratitude to Ph.D. student Matt Steinhafel, who has spent two years in pivotal roles in our Center, first as EAB Coordinator and then as Graduate Assistant Director. Matt has done a great job working with our staff and helping to ensure that the Center runs smoothly. He will be missed in the Writing Center, but fortunately, Matt will continue to be with us in the English department serving new assignments as part of his Teaching Fellowship. Thank you to all of our staff. We're excited to have a great team returning and promising new consultants ready to join our Center next academic year. 
Finally, thank you to the students who have visited the Writing Center this year. We're grateful that you have made us a part of your writing process. 
Dr. Kevin Rulo
Clinical Assistant Professor, English
Director, University Writing Center
Associate Dean of Academic Support