EGO Year in Review
By Robert Sherron (current Ph.D. student)
In this, our Annex-Exile, EGO has focused on strengthening our collegial bonds, while still organizing events and lectures that serve our broader university community.
In 2018, we co-sponsored two major academic events. In the Spring, we hosted Dr. Emily Wilson, acclaimed translator of The Odyssey. She discussed our profession broadly (particularly the media's relationship with it), translation broadly, and the particular choices she made in her particular text. English students, classicists, and local Homer enthusiasts all enjoyed the event.
This Fall, we also co-sponsored "Traditions of Eloquence: The Jesuits and Modern Rhetorical Studies," a guest lecture by Dr. Cinthia Gannett and Dr. John C. Brereton. This was of particular interest to our students (many of whom are young scholars of rhetoric), but also drew a very diverse crowd from both the university and the local area. Drs. Gannett and Brereton traced the history of the Jesuit rhetorical tradition, noted its distinguishing characters, and then broke to meet with our teachers privately to discuss the use of Jesuitical pedagogy in the classroom. The event thus also served our graduate students' professional development.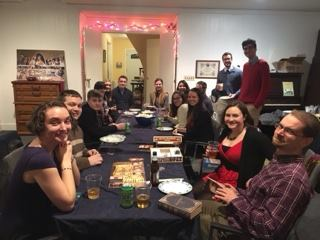 Throughout the year we've hosted coffee and doughnut breakfasts (which have helped bring together our students and our faculty), movie nights (exposing our students to the filmography of Whit Stillman), game nights, and holiday parties in order to strengthen our graduates' resolve as we continue to push on in the shadow of the crumbling, condemned, Marist Hall. EGO continues to help distinguish our graduate program's culture from those in other universities: rather than competitors, we are a community. Rather than rivals, we are colleagues.
In 2019 we hope to continue to serve our university community, to continue to bring in excellent lecturers, but also to strengthen further our focus on events which bring together our students.