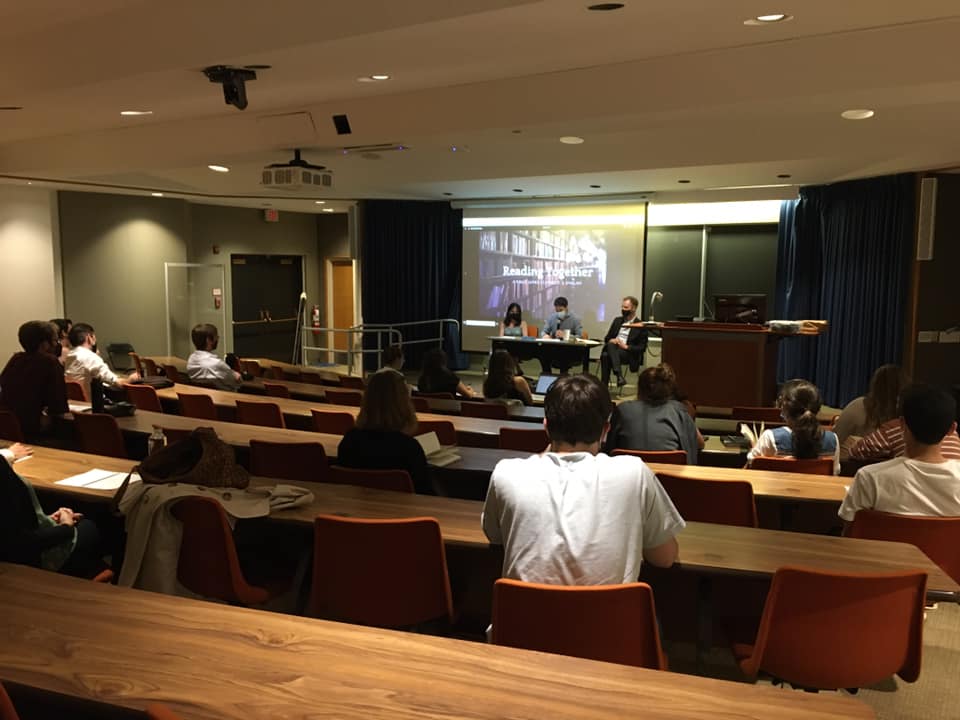 A Conversation with Dr. Gergory Baker, Dr. Kevin Rulo, and Dr. Amanda Auerbach
Earlier this month, the English Department, with co-sponsors English Society and
Vermilion
, hosted its first lecture in the new series: "Reading Together." The department's Associate Professor of Practice, Dr. Taryn Okuma proposed the series out of a desire to share the thought-provoking conversations of literature she regularly exchanges in with her colleagues. T.S. Eliot's
Four Quartets
struck her as something a larger group would benefit from discussing, as they are, "amazing, beautiful, but very difficult."
The panelists for this first discussion echoed Dr. Okuma's impression of the quartets, in their discussion of "Burnt Norton." At the beginning of the lecture, Assistant Professor and Director of Irish Studies, Dr. Gregory Baker joked, "I'm glad that I never made the claim, as a younger person, that I ever understood this poem." He described "Burnt Norton" as an intimidating poem, one that the reader is supposed to be frustrated with.
Dr. Kevin Rulo, Clinical Assistant Professor and 2015 winner of the Fathman Young Eliot Scholar Award from the International T.S. Eliot Society, offered commentary on poetry as a whole which helped frame the approach to the poem. He said, "we often talk about poetry as language under pressure: to the breaking point, and then past the breaking point." Confusion is inherent to the process of sifting through language's ruins.
Specifically addressing the opening abstract verses of "Burnt Norton," published poet and Assistant Professor Dr. Amanda Auerbach identified this pressure Eliot was putting on language. She noted that the words were creating a disturbance, an awareness of his own words.
The next poem-under-pressure being analyzed in the Reading Together series is Eliot's second quartet, "East Coker." Dr. Baker left literature enthusiasts in attendance with the question: how does "Burnt Norton," as a poem, stand on its own, and to what extent does "East Coker" fit with it? When Eliot wrote "East Coker," the second World War was on the eve. Theaters were closed and London was being blitzed; a man reasoning in solitude had a new meaning.
The "East Coker" session will be held on Monday, November 8th from 8-9:30pm in Aquinas Hall, Room 102, and will feature Dr. Kevin Rulo and Dr. Christopher Petter (Ph.D. alumnus, 2021). These free events are in-person only and all are welcome. Please feel free to share this with anyone who might be interested! For more information, please see the
event listing
or the
series website
.
Jessica Wyeth
(B.A. Politics '23)
Co-Editor-in-Chief,
Vermilion