The twenty-sixth annual conference of the Association of Literary Scholars, Critics, and Writers—held at the University of Houston, October 12-15—was a wonderful literary event.  After having to cancel the conference in 2020 and 2021 because of the pandemic, we came back strongly in 2022 at Yale University and already are looking forward to the 2024 conference, which I'm delighted to point out, will be at Catholic University from October 17-20.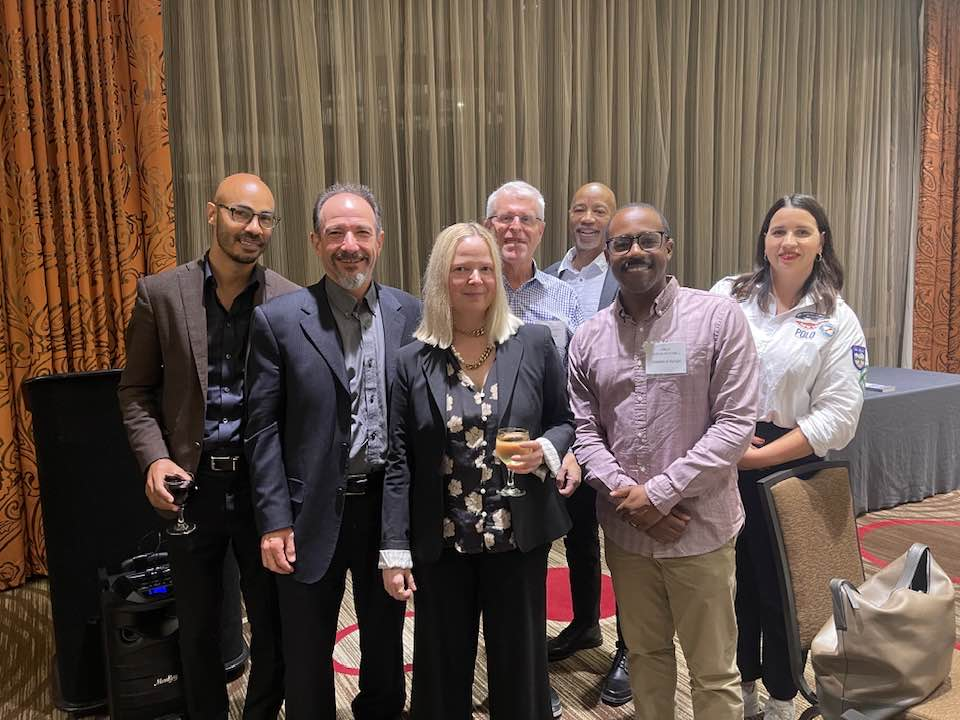 2023 ALSCW Banquet. Left to right: Jesse McCarthy (Harvard University), ES, Ange Mlinko (University of Florida), Michael Gorra (Smith College), Ken Warren (University of Chicago), Justin Mitchell (University of Michigan), Guilla Ricca (University of Michigan)
The 2023 conference was splendid and typical. Two hundred and twenty people attended and one-hundred and eighty-four people presented their work.  Eighteen graduate students, faculty, and alumni of our English department participated (only Yale, Johns Hopkins, and the University of Chicago match our department's participation from year to year). Sessions featured the ALSCW's usual mix of established scholars and creative writers from research universities and teaching colleges, early and mid-career people, and graduate students, all in dialogue with each other. Roosevelt Montas (Columbia University), Susan Choi (Johns Hopkins University), John Burt (Brandeis University), and Ange Mlinko (University of Florida) gave plenary lectures and readings. Mary Jo Salter (Johns Hopkins University) moderated a plenary panel on W.H. Auden, Michael Gorra (Smith College) moderated one on William Faulkner, Rosanna Warren (University of Chicago) focused on French Modernism, and Sarah Beckwith (Duke University) led a panel on close reading of renaissance literature. Megan Murton, Taryn Okuma, and I were among those who moderated a seminar (subjects ranged from Chaucer to Shakespeare to Irish literature to war movies).  Ryan Wilson presided over readings by the Meringoff Writing Award winners and a superb Literary Matters poetry reading by Rachel Hadas (Rutgers University) and Tomás Morin.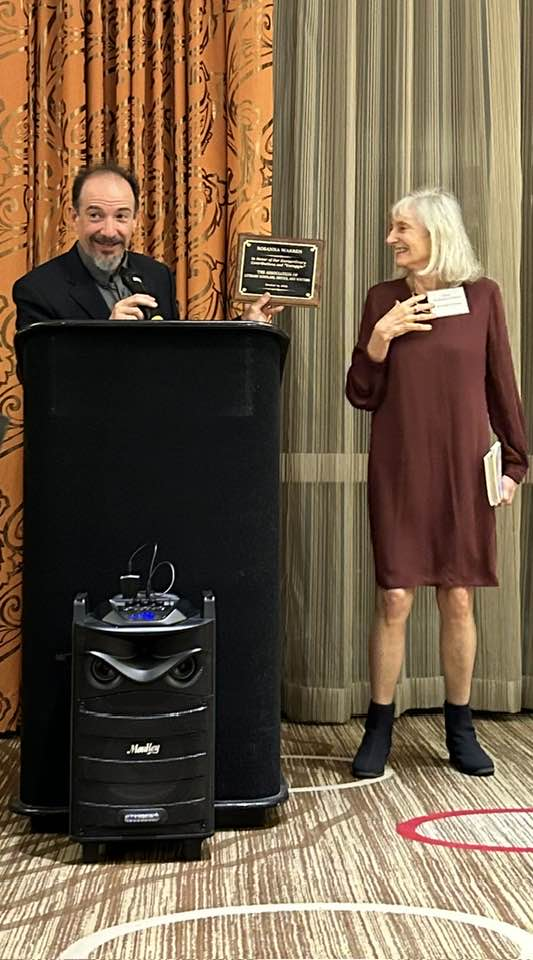 Rosanna Warren (University of Chicago) receives an award for "outstanding contributions" to the ALSCW.
I come away from every ALSCW annual conference feeling incredibly proud of our program, and next year's gathering at Catholic will be a tremendous opportunity to highlight our department. The 2024 conference committee has been at work since the week after the Houston gathering. Four of our faculty will moderate seminars. Robert Levine (University of Maryland) and Kenneth Warren (University of Chicago) will moderate plenary panels.  Max Rudin, President and Publisher of the Library of America, will give a presentation (the ALSCW is the LOA's longest and strongest partner).
The Call for Papers announcing four plenary panels and sixteen seminars will be circulated in February.  The national headquarters of the ALSCW is in our department, and I have no doubt that our faculty and students will shine!
All my very best,

Ernest Suarez
David M. O'Connell Professor of English
Executive Director, Association of Literary Scholars, Critics, and Writers
Chair, Department of English