Memories in Marist Annex
by Anna Stephens (B. A. English '21)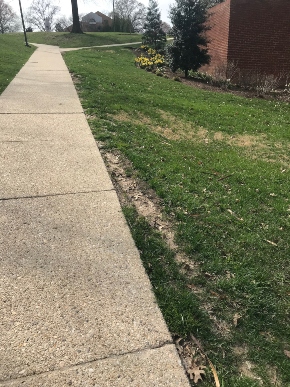 Three years ago, as a freshman at Catholic U and a brand-new English major, I started out on the first of many characteristic endeavors uniquely familiar to students in the English Department: the hike up to Marist Annex. Close reading essay assignment and
Norton Anthology of English Literature
in hand, I walked past Aquinas Hall and up the hill to the edge of the woods in search of the cottage-like building where my English TA said he could be found for afternoon office hours. Eager to delve into my first college writing assignment, yet also relatively unsure about how to start, I followed in the footsteps of countless other student writers at Catholic U before me and made the trip to the Annex for help narrowing down a thesis statement. Unbeknownst to me at the time, that meeting was to be the first of many appointments with dedicated English professors spent brainstorming paper ideas and discussing feedback on rough drafts — each of which has encouraged me to embark on the ever-present challenge of continuing to improve as a close reader and a writer.
While meeting with professors during office hours is a regular occurrence among English majors here at Catholic U, these discussions are only one of many elements that make life in our major an exceptionally rewarding experience. From English Society meetings in Dr. Murton's apartment to major-only genre courses and impromptu English major dinners, English students come to find a dynamic and welcoming community among peers and professors alike during their time at Catholic U.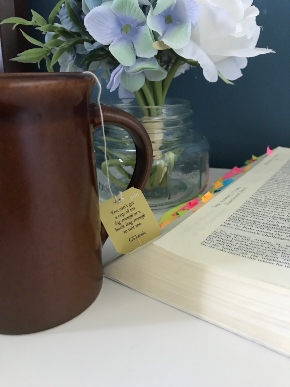 As the start of a new and in many ways unprecedented semester approaches, two senior English majors have taken the time to share their favorite memories of being in the Annex and their own experiences of becoming involved with the numerous opportunities for scholarship and fellowship which our department has to offer. Eddie O'Brien highlighted Drama with Dr. Mack, one of the three majors-only genre courses offered by the department, as a particular favorite:

"There are so many memories to choose from — the English department abounds in blessings and meaningful connection. I have to say that taking Dr. Mack's drama course has been my absolute favorite. It was my first of the two required genre courses, and so the experience of being in a class with all English majors was new to me but so so exciting and rewarding. There were only about 12 of us in the class, so we got to grow into quite a close-knit group. There were many Mack-isms, beautiful and deep discussion on the plays we read, and much laughter and tea. Because we all got to know each other so well and proved to be truly committed, Dr. Mack appointed Irene Wilson (B. A. '20) the keeper of the tea-stash and honey so we could muse over the literature as through-and-through English majors: mug in one hand, book in the other."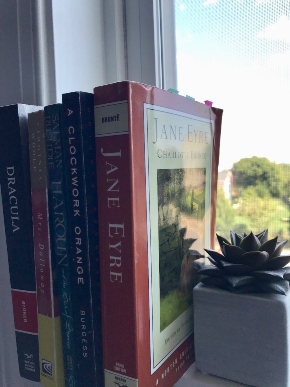 When asked about fond memories and characteristic elements of the English offices in Marist Annex, Eddie also mentioned the "eccentric green chair" located in the nook outside of Dr. Okuma's office:

"I basically camped out in it at least once a week for office hours and precious discussions of literature with the woman who made me read Jane Eyre and A Clockwork Orange in the same semester, but helped me become completely obsessed with both!"

For current and past English majors here at CUA, that eccentric chair is a welcome and familiar sight, reminiscent of time spent awaiting advising appointments and conversations about literature and life which are sure to fill the day to day life of a Catholic U English major.

Rachel Wood also shared her thoughts on the enriching experiences which the English Department has to offer, reflecting on her coursework and participation in other department events with gratitude and looking to the year ahead with optimism, despite its unconventional beginning:

"I have countless favorite memories throughout my years of English classes, all of them involving deep discussions with professors and friends…reading Walt Whitman with Dr. Gibbons and our Lyric class in Marist Annex one Friday afternoon, debating Macbeth on the Basilica lawn with Dr. Mack and our Shakespeare class, hearing Mr. Djain dramatically read Shelley and Keats in our ENG 232 discussion section, discussing Flannery O'Connor with Dr. Murton and Dr. Okuma and the rest of the English Society. Despite the challenges we face in this new virtual environment, I'm confident that we have an amazing semester ahead of us: we still have beautiful literature to read and remarkable people with whom we can plumb its depths; nothing can change that."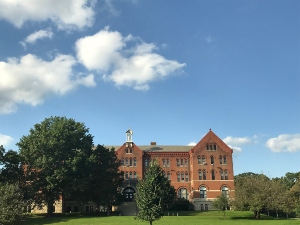 Although we may be scattered throughout the country, taking classes and welcoming the newest cohort of literature-loving English students from afar this semester, we will continue to appreciate and look back fondly on our times in the Annex and to anticipate many more to come in the months ahead — even if they may not look exactly as we expected. We hope the newest class of English majors will enjoy and cherish their time participating in and learning from the English Department and will come to think of the Annex as we do — not just as the department building which looks like a house, but as the place where a vibrant community of literary scholars, developing writers, professors and students alike, call home.
Photo credits: Anna Stephens