Meet the Editors-in-Chief of the new literary magazine
In May the English Department announced the creation of a new student-run online magazine of literature and the arts: Vermilion. The Co-Editors-in-Chief agreed to introduce each other for this first newsletter of the school year: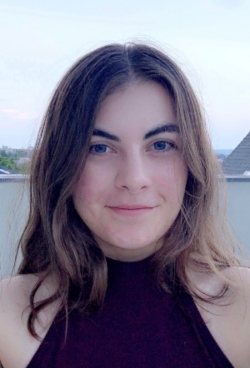 Introducing Jessica Wyeth
by Matthew Sawtelle (PhB '23)

When I asked one of Jess Wyeth's former roommates to give me an interesting (and potentially humorous) detail about my fellow Co-Editor-in-Chief, she told me that Jess owns a rather expensive stuffed elephant named Ned. I considered this information priceless because Ned's existence displays, perhaps in a more poetic than logically rigorous manner, some of the qualities I have come to know and appreciate about Jess during the short time that we have been friends. Jess is supremely organized; she values structure and clarity when approaching large tasks. She is the only person I have met who loves to make PowerPoint presentations. This natural orderliness is complemented by great creative talent and drive. Her prose is well-crafted, controlled, honest, and enriched by the strength of her personality. She says what she means and means what she says. All these qualities in addition to the fact that she was the Editor-in-Chief of her high school's literary magazine make her a capable leader and a natural choice to guide Vermilion through its infancy. It is an honor to be able to work with someone as skilled and qualified as Jess. However, putting all professional considerations aside, the things I have come to appreciate most about Jess are her kindness, wit, good-humor, and faithful friendship. She is the delightful kind of person who will cherish a stuffed elephant named Ned, but only if it is hand-stuffed by some skilled, posh, likely Parisian toy maker. It is my great joy to call her my Co-Editor and friend.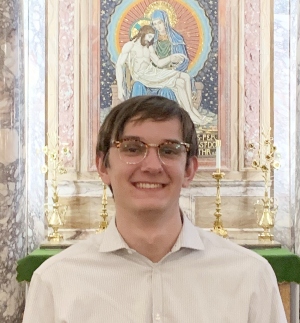 Introducing Matthew Sawtelle
by Jessica Wyeth (B.A. Politics '23, English minor)
As Co-Editor-in-Chief of
Vermillion
, Matthew Sawtelle is a literary enthusiast. A member of Catholic University's English Society since his sophomore year, he enjoys the zealous discourse that each examined text demands. With a deeply analytical mind, Matthew is a passionate philosophy major in his junior year at Catholic. He hails from Dallas, Texas, where he is the proud owner of two oversized corgis named Percival and Theodore.
As a poet, Matthew Sawtelle is a Romantic. His words are immersed in a genre entirely alien to my own writing. It's for this reason that I find him to be such a suitable Co-Leader for this literary magazine: together we bring entirely different areas of expertise to the table. His poems draw inspiration from American poet Timothy Steele with themes falling neatly beside the likes of Wordsworth, Thoreau, and Emerson. When conversing with Sawtelle, one should be careful as to not criticize strict formal poetry. He does not tolerate violence against meter and rhyme. I may or may not know this from personal experience.
As a friend, Matthew Sawtelle is the best there is. He can be easily persuaded into French courses, a language neither of us speak (yet). He approaches new hobbies with both the curiosity and experience of a child, but the passion of a master (this includes, but is not limited to, bread-making). Additionally, if you catch him on campus dressed-to-the-nines, he is likely on his way to or from Latin mass at St. Antony's. Feel free to carefully evaluate the knot of his tie, I know him to take great pride in the craft. He brings this attentiveness to the littlest of things into every endeavor— see how his careful eye fine-tunes
Vermillion
's very first issue coming this Winter.