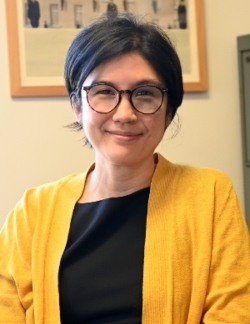 Department
English
School
School of Arts and Sciences
Expertise
Modern and contemporary British literature and culture
Composition and pedagogy
Modern war literature
Memoir
Profile
Dr. Taryn Okuma joined the Catholic University faculty in 2009. She specializes in contemporary British fiction and her research interests include twentieth and twenty-first century British literature and culture, composition and pedagogy, 20th century war literature, postmodern fiction, and postcolonial and Anglophone literature.
Dr. Okuma has presented and published scholarship on Henry Green, Evelyn Waugh, Kazuo Ishiguro, W. G. Sebald, T. S. Eliot, Pearl Buck, and college composition. Her work focuses on the connections between literature, history, and national/cultural identities.
Additionally, Dr. Okuma is deeply invested in helping to shape the writing culture at Catholic University. In 2015 she proposed and helped to create
Inventio: The Undergraduate Research Journal of The Catholic University of America
, for which she also serves as faculty editor. She is also the founding faculty editor of 
Vermilion
, an online magazine of literature and the arts, launched in 2021.
In 2012 her interests in Writing Center research and pedagogy spurred her to create Catholic University's first peer-tutoring program in the University Writing Center: the
Writing Center Undergraduate Tutor Program
. As the Director of the WCUT Program, Dr. Okuma trains undergraduates to work as tutors in the Writing Center and mentors them as they develop
research projects
. Through the WCUT Program, CUA students have presented their work at international and regional conferences.
Strongly committed to teaching, Dr. Okuma seeks to enrich undergraduate study and provide mentorship for graduate students as they prepare to enter the profession. She served as Director of Placement from 2013-2021, assisting and advising graduate students seeking academic and alt-ac employment. Dr. Okuma's teaching has been recognized by various awards, including Catholic University Residential Life's Faculty of the Month Award (October 2010) and the UW-Madison's College of Letters and Science Teaching Fellow Award, University Early Excellence in Teaching Award, and induction into the UW Teaching Academy.

Administration
Dr. Okuma serves as the Director of the Cornerstone Program and, within the English department, also serves as Director of Internships for undergraduates interested in careers in creative and professional writing, publishing, and editing, as well as Faculty Advisor to various graduate and undergraduate organizations, including the Modern and Contemporary Research Colloquium, and advises graduate students completing Ph.D. and M.A. work focusing on 20th century British and American literature.

In addition to serving as Associate Director of the Writing & Rhetoric program, Dr. Okuma is the Director of the Writing Center Undergraduate Tutor Program, which she established in 2012, while serving as the Director of the University Writing Center. For more information about the program, please email Dr. Okuma or visit the Tutor Program page on the Writing Center's website. 

Dr. Okuma also serves as the Faculty Advisor for the Catholic University English Society, which she founded with a group of undergraduate majors in 2010. For more information about the English Society and its annual calendar of book discussions, excursions, and social events, please visit the English Society page on the department website or join the "CUA English Society" group on Facebook.
In 2021 Dr. Okuma received the inaugural John Convey Award for Excellence in Service from the School of Arts & Sciences.