Each year, the English Department awards the H. Edward Cain Prize for excellence in literary study. This goes to the graduating senior who has demonstrated the highest excellence in all four years of study.

This year's graduating class is particularly strong and the faculty have elected to award the Cain Prize to two candidates who stand out even among such an outstanding cohort: Elizabeth Hughes and Rachel Wood.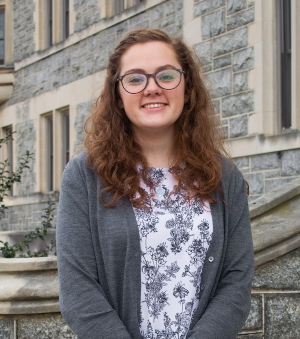 Elizabeth Hughes
Tell us about your involvement in English or English-related activities while at Catholic.

The first English activity I ever went to was the English Society's discussion of Henry V. My OA invited my entire OA group September of my freshman year and said we should come even if we hadn't read it. (Dr. Gibbons led the discussion, Benji [Djain] was there—little did I know the iconic group that was there). I remember being awed by the comments people were making and slightly terrified, though I was encouraged by the team who were impressed that I, a random freshman, showed up to this discussion.

Throughout my time at Catholic, I have been a rather sketchy member of English Society. [My advice for current English (and all other) majors: come to English Society! Even if you haven't read!]

I have also worked in the Writing Center for two years. As part of the training to work in the Writing Center, I completed a research project, in collaboration with DSS, on ADHD and the Writing Center. I ended up presenting this study at University Research Day in Spring 2020 and the the National Peer Tutor in Writing Conference in October 2021. I am currently working on getting my research published in an academic journal.

I also have been involved with Inventio, the undergraduate research journal, for three years—as Assistant Associate Editor for one year and Editor-in-Chief for two years. I have been able to accomplish a lot with my staff, including expanding the publication to two times a year, increasing the presence of the journal on campus, and developing the website.

Why did you choose to major in English at Catholic?

I wish I could say that I was so wise of a high school senior that I researched best English programs, but alas, I cannot. I just knew that I loved reading books, discussing them, and writing papers about said books and discussions. I decided to go to Catholic, and providentially, I stumbled upon the gem which is the English department. Throughout my studies at Catholic, I learned just how amazing the study of literature, and the study of it at Catholic, is. The professors are incredible academics (and incredible people!). I have learned so much, from how to close read to how to scan a poem.

What are your plans after graduation?

After graduation, I will be working at Oakcrest School, an independent all-girls school in Virginia, assisting the Dean of Faculty. I hope to become a middle or high school English teacher and eventually pursue a graduate degree in English.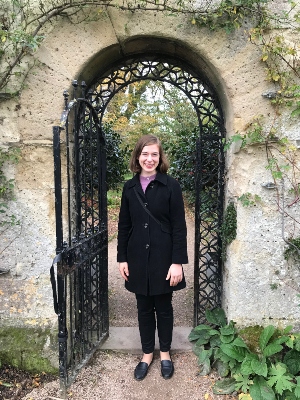 Rachel Wood
Tell us about your involvement in English or English-related activities while at Catholic.

I have written two essays that have been published in Inventio, one of which received the Phi Beta Kappa First Year Experience Essay Award. Research is always an arduous process, and after pouring so much of myself into both of those projects, it was tremendously exciting to share the fruits of my labors with others.
I have also been the Associate Editor of Inventio for the past two years. Working on the journal has given me an incredible opportunity to learn from and be inspired by the research undertaken by other students at our university. And having been a beneficiary of the process, it has been wonderful to help other students have the same opportunity to share the ideas and insights they've discovered. Finally, working with Elizabeth and the entire Student Editorial Board—from the heated debates about the journal's cover design (not to mention color) to the deep philosophical discussions that occurred every time we sat down to write our Letter from the Editors—has been an adventure and an absolute delight.

I took the Writing Center Theory and Practice seminar in Fall 2020 and I have been tutoring in the Writing Center ever since. Taking that course and gaining experience as a tutor has been extremely valuable for me as preparation for my future work as an English teacher. I've come to recognize that the ability to write coherently is a fundamental skill in every field, and furthermore, there's something deeply rewarding and empowering about being able to express yourself in clear and powerful language. So many professors have gifted me with generous time and attention to assist me with my own writing, and I'm very happy that tutoring in the Writing Center allowed me to help others in turn with this crucial skill.

I've written two articles for The Annex, one about my study abroad experience in Rome and the other about our "saint in the making," Servant of God Sr. Thea Bowman. I particularly cherished the opportunity to write about Sr. Thea—I otherwise would likely know very little about that brave, brilliant, and holy woman who studied English here at CUA. By far the most exciting part of performing research for that article was that CUA's archives allowed me to borrow and read the original copy of her doctoral dissertation!

I've been involved in English Society since my sophomore year at CUA. While my busy schedule didn't allow me to participate nearly as much as I would've liked, I loved attending these meetings, if only to hear the incredible and sometimes hilarious insights offered by my professors and peers! Perhaps my favorite meeting was our discussion of C. S. Lewis' Till We Have Faces with Dr. Murton and Dr. Djain.

Why did you choose to major in English at Catholic?

Unsurprisingly, I have always loved literature and hoped to spend my life reading and discussing the books that move and delight me. I also knew from a young age that I wanted to teach English because I simply wanted to share the joy that I found in literature. As I've gotten older, I've come to further recognize that great literature has a unique power—it not only imparts wisdom, it subtly reshapes our minds and hearts, moving us to embrace the truths it reveals. For this reason, I believe literature can make an real contribution to the renewal of our culture, and that is also why I chose to study—and hope to eventually teach—this subject.

I chose to study English specifically at Catholic University for many reasons. One of the most important, however, was due to the conversation I had with a faculty member from the English department while I visited campus as a prospective student. This professor described what makes CUA's approach to literature so special—namely, that professors here approach literature not as if it were a tool for advancing an agenda but rather as a window in which we can glimpse truth about the human condition and as an object of beauty in which we can take delight.

What are your plans after graduation? 

This fall I am headed to the University of Dallas to begin a Master's program in English and hope to be eventually teaching English at the high school or college level.


Photo credits:
Josephine Miller, photo of Elizabeth Hughes
Rachel Wood, photo taken in the Oxford Botanic Gardens, in which J. R. R. Tolkien used to walk. The gardens are across the street from Merton College, where he taught for many years.