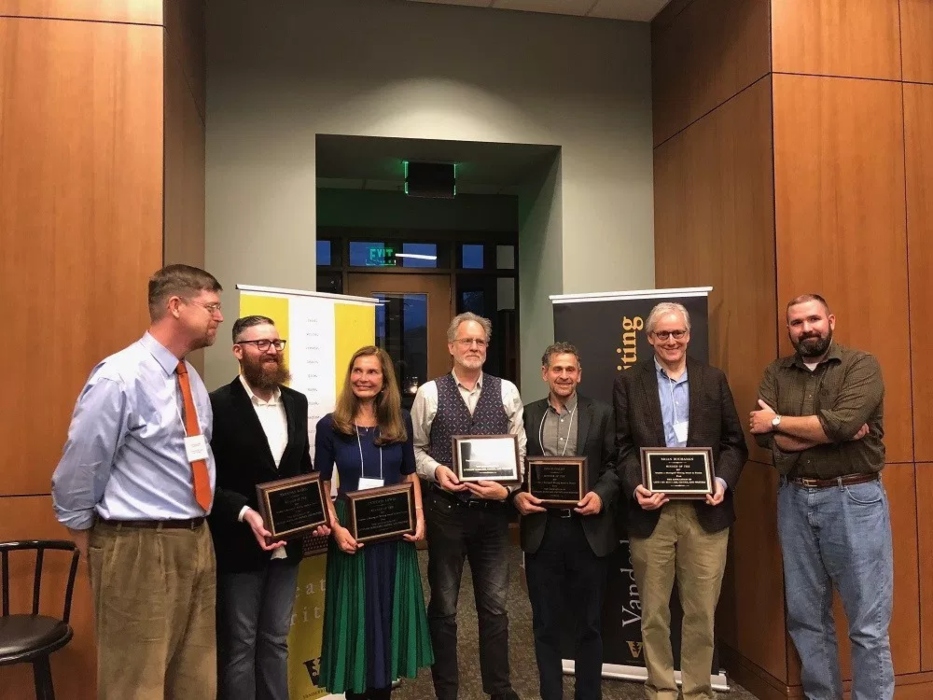 From the Chair's Desk
Seventeen Catholic University faculty, graduate students, and alumni will participate in the twenty-fourth annual conference of the ALSCW, which will be held at the College of the Holy Cross from October 3-6. I would like to thank our department members and alumni for their support; it's very gratifying for me personally. Let me take a moment to tell people new to the department about the ALSCW and how it made its way to CUA.
As many of you know, the ALSCW's national headquarters is in the Department of English. I've been a member of the ALSCW since the mid-1990s, and two people whom I very much admire played an important role in my joining. My great friend Virgil Nemoianu, Byron Professor of Literature Emeritus at Catholic University, was active in the organization's formation, and brought the ALSCW to my attention. At about the same time another good friend, John Hollander, Sterling Professor of English at Yale University, urged me to join. John was one of the ALSCW's founders—occasionally we would take the train from DC to New Haven (or the other way around) together. I was in my early thirties and just a few years out of graduate school—if Virgil and John were suggesting I join, that was good enough for me.
The ALSCW's mission statement indicates why the organization came into being:
In 1994, a group of professors of literature, critics, and imaginative writers, tired of lamenting the overly politicized debate about literary study in the academy, joined together to create a different kind of organization, one aimed at combating this intellectual partisanship. The founders represented many unique perspectives and literatures from ancient to modern, but shared a common exasperation with the narrow theoretical and sociological discourse that seemed to have gained ascendancy in the United States, Canada, and the United Kingdom in the eighties and nineties. We wanted a renewed and enlarged field of study, more freedom of thought and expression, and more lively exchange between scholars and literary artists.We represented no political agenda. Our members ranged across a broad ideological (or non-ideological) spectrum. What held us together was the desire to create a forum where lovers of the word could carry on spirited literary debate and examine the arts of writing.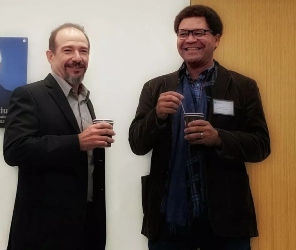 In its early days the ALSCW often was regarded as an "anti" or an alternative to the Modern Language Association. Sociologically oriented theory had taken over the profession to the point that Hollander, an award winning poet and a brilliant critic, told me, "Once upon a time my best audience was a group of English professors. Now it's my worst." Many creative writing programs split off from English departments and formed their own departments. People who supported the ALSCW often were disparaged as "reactionary," an absurd notion if one gleaned its membership. There were members who were politically and socially conservative, but they hardly were reactionary. And most members, including many of the founders and me, were not conservative—we were liberal humanists. More importantly, everyone in the organization championed a liberal arts education and valued literature as an art form. In a relatively recent interview, I addressed the ALSCW's founding:
The ALSCW started because of the ascendancy of postmodernist theory, but not because of the politics associated with postmodern theory. The issue was that literary study had become so overly politicized that people were losing sight of why literature is valuable. Literature and the arts often contain a political dimension, and that's an important part of the picture, but it's not the entire picture. We read great writers, from Homer to Toni Morrison, because their work helps us think about what it means to be human. Great literature has been written by people from different times, from different backgrounds, and encompasses a range of perspectives. Writers approach what it means to be human in a variety of ways. That dynamic is what makes literary study rich and textured. Any method—whether it's postmodern theories or approaches that use literature to affirm the greatness of western civilization—that doesn't take this into account is lacking. When literature is turned into a sociological abstraction, the individual human element is lost. A sense of craft and a sense of literature as an art form are lost. Emotional subtleties are lost.
The ALSCW has held national conferences and local events across the country since 1995. Our wonderful journal,
Literary Imagination
(Oxford UP), was launched in 1999, and quickly featured the writing of Robert Alter, Ann Beattie, Saul Bellow, Ronald Bush, Clare Cavanagh, Stanley Crouch, W. S. Di Piero, Anne Ferry, David Ferry, Donald Hall, Geoffrey Hill, Brenda Hillman, Richard Howard, W.S. Merwin, Les Murray, Marjorie Perloff, Christopher Ricks, Charles Simic, Mark Strand, Charles Tomlinson, John Updike, Derek Walcott, C.K. Williams, and others. The magazine currently is edited by Archie Burnett, Rosanna Warren, and me. If you're familiar with recent issues, you've seen the exceptionally high quality criticism and poetry it contains. (Yesterday I received a masterful five poem sequence from Edward Hirsch, a prominent poet and the President of the Guggenheim Foundation.)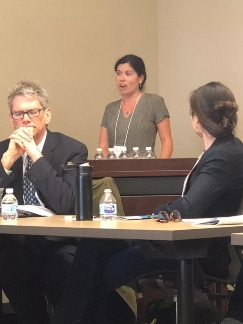 Before coming to Catholic University, the ALSCW's headquarters had been at Boston University for over twenty years. Two of the organization's founders, Rosanna Warren and Christopher Ricks, taught there and continue to play key roles in the ALSCW. But when Rosanna left Boston University for the University of Chicago—where she currently is Hanna Holborn Gray Distinguished Professor—the organization began looking for a new home and approached me. (Some of you have read a good deal of Rosanna's father's work with me.) The reasons the ALSCW came to Catholic University in 2015 suggest why so many folks associated with our department are affiliated with the organization. As the profession placed an increased emphasis on sociologically-oriented theory during the 1990s, we continued to emphasize literary history and aesthetics. That emphasis, as well as our DC location, made it a great home for the organization. In recent years the ALSCW has gained traction as more and more young scholars have shied away from reducing literature to a sociological artifact. Our membership numbers are higher than ever and attendance to our annual conferences has more than doubled since 2014. Literary Matters—formerly a newsletter—has been transformed into a superb online journal by its editor, our very own Ryan Wilson.

I especially am proud of our graduate students' performances at the annual conferences. Every year at the conference prominent scholars approach me, and tell me how our students impress them. The makeup of the ALSCW's membership and the design of our conferences contribute to this dynamic. The ALSCW is filled with accomplished scholars and creative writers—the best of the best, including Pulitzer Prize winners, National Book Award winners, and McArthur Fellows. Open almost any issue of The New York Review of Books, the Times Literary Supplement, or the Paris Review and you'll see criticism, poetry, and fiction by our members. One of the organization's primary goals is to bring scholars and artists back together. Another is for people at different stages in their careers to participate on similar footing. In preparation for the seminars everyone in a particular session comments on one another's drafts, and during the seminar everyone is allotted equal time for presentations. It makes for an extraordinarily rich mix—and it spreads the way the ALSCW, and our department, approach literary study. The language we often include when communicating about our annual conference provides a glimpse into the conference's overall design:
Please note that ALSCW members include university academics, secondary school teachers, creative writers, independent scholars, artists, students, editors, and even a few literary agents and scientists. Participants are urged to keep their presentations jargon free and accessible to those not working in their fields. People attending but not giving formal presentations are encouraged to participate in discussions.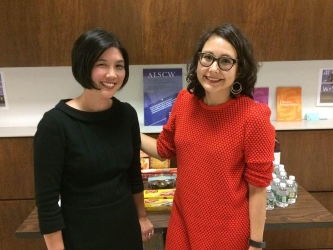 ALSCW conferences are, in fact, designed to promote an ongoing conversation about literature, literary history, and the arts. We try to make sure nothing is rushed. Plenary panels and seminars each run for up to two hours and offer ample opportunity for discussion. Participants move back and forth from seminars (four or five at a time) to plenary sessions (one at a time) to social gatherings, performances, and readings in the evening. The goal is to provide space for a constant cross-pollination of materials, ideas, and personalities. We feel there is great benefit to exchanges between well-informed people who may not share a specialization.

Please check out our website and take a look at our online journal, if you haven't already. Our 2020 annual conference will be at Yale University. I'll announce the precise dates and other details soon. We hold local events on campus, in the DC area, and around the country throughout the year. Everyone is more than welcome.

Ernest Suarez
David M. O'Connell Professor of English
Executive Director, Association of Literary Scholars, Critics, and Writers
Chair, Department of English
Photo credits and captions: Ernest Suarez
Top photo: Ryan Wilson (far right) presents the Meringoff Writing Awards. Each Meringoff Award includes a $3,500 cash prize.

Photo 1: Ernest Suarez and Mike Mattison moderated a seminar on "Poetic Song Verse" at the 2018 ALSCW conference at Vanderbilt University.

Photo 2: English department alum Lindsay Lawley Rerecich addresses the seminar on "Rereading" at the 2018 ALSCW conference at Vanderbilt University.

Photo 3: Taryn Okuma and Rebecca Rainof--the two lovelist people at the 2018 annual conference at Vanderbilt University (according to Ernie)--participated in the seminar "Teaching Creative Writing at the College & University Level."