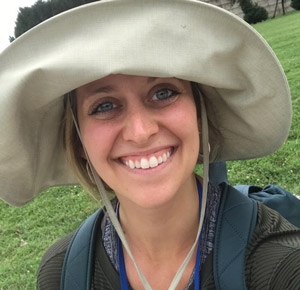 Class Year: 2012
Other majors/minors: Media Studies
What was your first job out of college? Assignment Desk Editor at ABC4 in Salt Lake City, Utah
Current job: I alternate between working as an Assistant Location Manager and an Assistant Production Coordinator for feature films. The greatest benefit of either position is that I'm afforded opportunities to travel to and work in incredible places, but I'm currently based out of Los Angeles, CA, and Atlanta, GA. As an ALM, I get to be boots on the ground scouting locations and working with the local businesses and residents to accommodate our shooting crew, set dressing, and the enormous footprint we end up occupying (parking, trailers, catering, etc). As an APOC, I'm part of the logistic brain of the film. Alongside the other office personnel, I manage the nuts and bolts of everyday production from pre-production through wrap.
How has your English major served you in your career? The ability to communicate clearly and effectively while managing a massive amount of information is invaluable. My critical reading skills help me to understand peoples' different styles of speech and writing and more quickly comprehend their meaning, saving everybody time down the line. There is a lot of nuance to this business, and being able to communicate within those parameters but also operate effectively by cutting through to the core information is a life saver.
What do you value most about having been an English major at Catholic U.? The English Department felt like a family. I think because we all eventually volunteered vulnerability by communicating our reading of a text or sharing our own writing, the relationships we formed were inherently supportive and empowering. Feeling capable of effective communication with my peers gave me a baseline confidence that I rely on every day in my work environment.
What's one piece of advice you have for current and/or prospective English majors at Catholic U.? Don't be afraid to ask — for a raise, for a new opportunity in the company, for a chance to work in another city. You are going to graduate from this program with the skillset to ask the right way, and you will be prepared to respond to a yes or a no. That's one of the greatest gifts you will receive from higher ed.
Website: https://www.imdb.com/name/nm5793317/