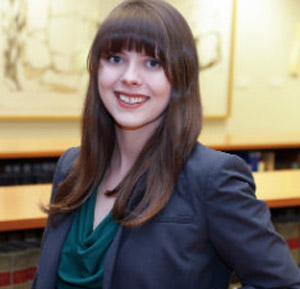 Class Year: 2014
Other majors/minors: Anthropology, Philosophy
What was your first job out of college? I started law school at William & Mary immediately after college.
Current job: I'm currently an associate attorney with Gerard Fox Law, PC, in Georgetown. I'm in litigation, with a focus on intellectual property law (copyright and trademark). As a litigation associate I assist with all aspects of bringing lawsuits from their beginning stages through settlement or verdict. This includes a significant amount of legal research, fact investigation and development, formulation of arguments, and drafting pleadings and motions, among many other things.
How has your English major served you in your career? My degree in English, and most importantly the things I learned in the process of getting that degree, have been invaluable in starting my career in law. My decision to attend law school with the goal of focusing on copyright law was inspired by my time as an English major. I was fascinated by the interplay of arts and the legal system: the ideas of authorship, creation, and creativity as they are applied to copyright cases; the line between inspiration and copyright infringement and the analysis judges use to make those determinations; and the balance between encouraging creativity and protecting works of authorship already in existence. Moreover, I carried my love of writing with me to law school, with great success. During my second year of law school, I was a member of the Business Law Review, one of the school's student-run law journals. As a member of BLR, I was required to write a lengthy scholarly article on a topic relating to business and the law. My paper, about the copyrightability of interviews, went on to win two legal writing awards, and is now published. This success inspired me to write another paper, this time about music sampling and the law, which won another two writing awards. These accomplishments were the highlights of my law school career, as they allowed me to meet many intellectual property attorneys, and participate in the dialogue surrounding copyright law, its applications, and its shortcomings. More directly, I received my current job through someone I met at an event I attended to receive one of these awards. I have no doubt at all that these successes are attributable to the skills I learned as an English major at CUA.
What do you value most about having been an English major at Catholic U.? Apart from the truly wonderful professors and fascinating classes, being an English major taught me to critically examine problems, analyze and understand complex texts, and develop and clearly articulate nuanced arguments.
What's one piece of advice you have for current and/or prospective English majors at Catholic U.? Join English Society! (Shameless plug, but I still attend book discussions when I can, and wish I could go more often). And enjoy (and make the most of) the experience of being surrounded by thoughtful, intelligent people who love literature.