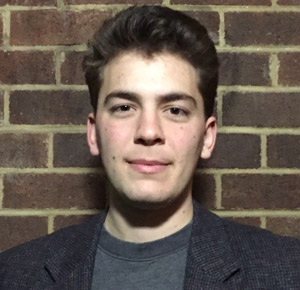 Class Year: 2014
What was your first job out of college? Well, if you don't count the six months I spent unemployed hunting for work, and then the following two months I spent doing one temp gig after another, my first job out of college was as a "Coordinator" for the Urban Land Institute, an international network of real estate and land use professionals.
Current job: I am the "Communications and Programs Coordinator" for the Columban Center for Advocacy and Outreach. We are the US-based social justice advocacy office for the Missionary Society of St. Columban, an order of Catholic priests and lay people dedicated to accompanying socially and politically marginalized communities. 
In my role I have two primary responsibilities: to amplify the experiences (i.e., the stories) of the communities Columbans accompany in order to inspire a change of heart in policy makers and the general reader, and to provide those audiences with the resources and the opportunities to act for justice on behalf of those communities. 
How has your English major served you in your career? By teaching me how to write and how to tell a story. 
On writing: knowing how to write well gets you noticed. For example, in a previous job my boss noticed my writing skills and asked if I would help with some grant proposals. Before that I had never considered fundraising as a possible profession, but now I have an entirely new set of skills with which to promote myself. As another example, when I hire interns for my current office, the quality of their writing sample is a big factor in my decision.
On storytelling: this, quite frankly, is how you get people to do what you want them to. Here are two storytelling scenarios that I've found myself in: if I can move readers to heartache or anger over the unfair challenges a marginalized community faces, then I can motivate them to call their Members of Congress to demand change; if I can excite a prospective donor in the potential of my office's new program, then I can convince them to fund the program. If you can tell a story, you've got the potential to transform the world according to your vision. Just remember, with great power comes great responsibility. 
What do you value most about having been an English major at Catholic U.? I value the rigor with which the English Department requires its students to grapple with the fundamentals of the discipline: reading, grammar, the steps of the writing process, etc. Even though language and storytelling come naturally to everyone, how to use those tools with skill requires real work. When I was a freshman, I thought I knew what I was doing. Oh how quickly I was humbled, and how quickly I got better. 
What's one piece of advice you have for current and/or prospective English majors at Catholic U.? Have a vision (or a roadmap) for how you want your life to look over time. Your roadmap doesn't have to be comprehensive or definitive, but you should be asking yourself some questions: What kind of career am I pursuing? How am I spending my free time? What are my life's outcomes?
When I was in college, my roadmap was defined by my courses, my homework, whatever my clubs were up to. When I left college and I didn't have those external motivators anymore, I ended up drifting from one thing to the other for a few years. 
In one way this drifting was a blessing in disguise, because I stumbled upon certain endeavors that I wouldn't have sought out on my own. (This is one of the wonderful challenges of the English major: it prepares you for almost every nontechnical opportunity.) But when these 18,000 options overwhelmed me, I ended up choosing certain paths without putting a lot of intentionality into my decisions. Taking stock of my life since I've graduated, though I am grateful for the experiences I've had, I also see that I haven't made as much progress as I would've liked in some of the endeavors I claim to care about. 
So, have a vision (or a roadmap) for what you want your life to look like over time and learn to motivate yourself from within, but still be receptive to the opportunities you aren't seeking because they will inevitably present themselves.