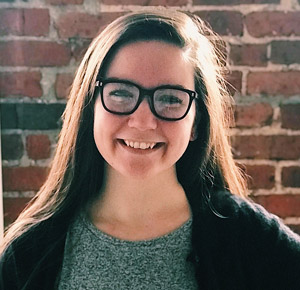 Class Year: 2015
Other majors/minors: Theology and Religious Studies Minor
What was your first job out of college? I was a full-time volunteer through Jesuit Volunteer Corps Northwest! My official title was Shelter Program Generalist at Nativity House in Tacoma, WA- which is a day center/ night shelter/ supportive housing complex for adults experiencing homelessness. I did everything from assisting in client case planning through motivational interviewing to sitting at a resource window and handing out toothpaste.
Current job: Currently I am a full-time graduate student pursuing my Master of Social Work at Fordham University in New York City. I also intern three days a week, and work two days a week, at Children's Aid in their Manhattan Family and Medical Foster Care division. In my intern position at Children's Aid I act as a socio-therapist, which is realistically just a fancy title for behavioral support and management within foster homes. During the other two days of the week I work as a case aid, monitoring family visits between foster children and their birth parents, and assisting with case or event planning.
How has your English major served you in your career? My experience as an English major serves me on the day to day primarily through my understanding of language and my strong writing skills. I remember getting a C+ on my first English 101 paper when I was a freshman at Catholic and I cried. How could I be an English major and not even do well in English 101? I soon realized that I received the C+ because my teacher knew I could do better — and since then I definitely have. My current and former supervisors have all really appreciated my attention to detail when writing up my case notes — often asking me to create training manuals for future volunteers or interns. My degree has also served me well when learning about grant writing, completing program development, and communicating with client at all different levels.
What do you value most about having been an English major at Catholic U.? I am forever grateful for the opportunity I had to foster a lifelong passion of reading and writing into a B.A. in English. I crack jokes all of the time with my family full of medical professionals that it's extremely impressive that they can save lives day in and day out after studying subjects like Biology, Chemistry, and Nursing in undergrad, but I was able to turn my favorite hobby into a legitimate degree. 
The relationships I was able to form with my fellow English majors and professors was also a huge gift. The English department is a community within the larger community of Catholic U. Yes, there are times when all you want to do is commiserate with your classmates over the hundreds of pages you're expected to read by the end of the weekend, but you're also all secretly nerding-out over the significance of a simple punctuation mark in that one line of Emily Dickinson poetry (or was that just me…?). In addition to having an amazing cohort of classmates, the professors genuinely want to see you succeed in the classroom, while also being invested in your well-being and future outside of the classroom too. English Society and the crazy amount of babysitting jobs I got thanks to Dr. Okuma was also a major plus. 
What's one piece of advice you have for current and/or prospective English majors at Catholic U.? Get the most out of your time as an English major at Catholic U., and enjoy every minute of it! I started out as a double major in English and Education, but by my junior year I realized how amazing the English department was and how many opportunities I would still have in my potential, future careers if I chose to instead focus on one degree at a time. When I decided to major in English alone, I had much more freedom in my class schedule to the point where I was able to take on an independent study opportunity with Dr. Gibbons and even minor in Theology and Religious Studies — hands down two of the best experiences I had at Catholic U.