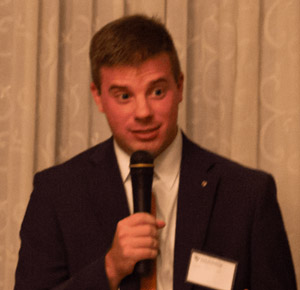 Class Year: 2015
Other majors/minors: Philosophy minor
What was your first job out of college? I did sales — "Junior Business Development" — for a start-up company called Rally Bus. Branded as 'crowd-powered travel', Rally Bus is like Uber/Lyft for the coach bus industry. Essentially, I sold seats on buses along with their new technology. With persuasive skills and a strong Catholic network gained from my English degree at Catholic U, I was able to produce the highest grossing single-day revenue for the company at the time selling bus seats to the Papal Visit in 2015.
Current job: I am the Program Manager for Life-Based Initiatives for the Knights of Columbus in New Haven, CT. I oversee the growth and implementation of the following programs: March for Life, Special Olympics, Ultrasound Initiative, Silver Rose Pilgrimage, Christian Refugee Relief, Pregnancy Center Support, Novena for Life, and Mass for People with Special Needs. The Knights of Columbus, in addition to being the largest Catholic fraternal organization in the world with nearly 2 million members, is also a Fortune 1000 insurance company with $24 billion in assets. My job involves promoting and marketing the life programs using marketing metrics and analytics (math, weird, right?) as well as relationship building and sales a.k.a. membership engagement.
How has your English major served you in your career? Although I am not a 'communications professional', I find ways to communicate (with colleagues and clients) effectively each and every day. Although I don't always have the best idea, I am often the best at communicating my idea, arguing in support of my idea, and arguing against other ideas. Being an English major gave me the skillset to create and attack arguments in nuanced and smart ways. All that close reading really paid off! The best communicators are the most successful — whether in architecture, engineering, medicine, business, teaching etc. English majors tend to be the best communicators.
What do you value most about having been an English major at Catholic U.? We read literature as literature. We focus on the text and remain grounded in the text. This way of studying literature creates the sharpest minds. From a few words on a piece of paper arranged in a particular way, Catholic U. English majors create the most complex and riveting arguments.
What's one piece of advice you have for current and/or prospective English majors at Catholic U.? Develop relationships with your English professors. Visit their office hours frequently. There's no one that will be in your corner like a Catholic U. English professor. They want you to read and write well. They want you to enjoy literature. They want you to be happy and healthy. They want you to be employed when you graduate.